As it turns out, there are many fans of Farming Simulator within Kverneland Group. That's why we continue our talk with Andreas Grepstad, since he's one of them. Did you miss our interview with Group Communication Manager Cecilie Våge? Don't worry, catch up with Part One! Speaking to her, we learned about the company's focus on agricultural advancement and innovation, general awareness for the industry and more.
In today's interview with Graphic Designer Andreas Grepstad, you'll get some insights on the acclaimed brands of Kverneland and Vicon finding their way into Farming Simulator 19 - with much approval and enthusiasm from employees of the international manufacturer. Both brands have been added to the game with the newly released Kverneland & Vicon Equipment Pack.
Part Two of our interview with Kverneland Group
---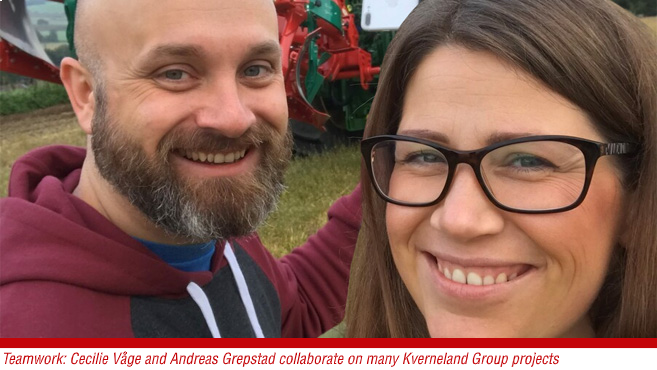 Andreas is the Graphic Designer in the After Sales Departement of Kverneland Group. Not only does he have an incredible eye for detail due to his profession, he also knows a lot about the company and its machines. He was happy to share his thoughts on the Kverneland & Vicon Equipment Pack from his perspective and share some interesting facts from behind-the-scenes.
As before, the highlights of our interview with Andreas are shown in the follwing video. Since we couldn't meet in person, we talked via FaceTime. That's just how it's done these days. But, if you want to know more, keep on reading after the video ended! You'll find the complete interview in written form below.
Talking to Andreas Grepstad, Graphic Designer at Kverneland Group
---
Hi Andreas! Tell us, are there fans of the game within the company? If there are, how is the feedback on the Kverneland & Vicon DLC expanding Farming Simulator 19?
Andreas Grepstad: First of all, I am personally a big fan of Farming Simulator. When I started my job at Kverneland Group, I actually spent the whole summer of 2012 playing the game to educate myself on farming tools to start up working as a Graphic Designer for Kverneland Group. I'm a bit of a city boy with little to no knowledge about machinery, so it was a great tool to educate myself. I had lots of fun learning, and found the game to be quite addictive. It was a good summer spent indoors (laughing)!
I had the chance to test the Kverneland i-Plough in-game at Agritechnica last year, and had a great time ploughing a field while totally forgetting my job for a while. I showed the Farming Simulator teaser video to the product manager for plough parts. He's been working at Kverneland Group for 50 years this year! As he was watching, I could see him leaning closer to the screen and a smile started growing on his face. He was very impressed with the realism.
And he's not the only one showing enthusiasm among our colleagues. Whoever I show it to, they're smiling and recognize our machines. I think we need to set up a sim rig in the office now. I will, of course, update the machine park on my private digital farm now that I can go Kverneland and Vicon.
What does the representation of the brands in the game mean to the company?
Andreas Grepstad: I've been wanting for this to happen since I started playing Farming Simulator. Representation of our brands in this game is very important to us. Farming is one of the oldest professions in our society and this game gives a unique chance to experience how much work goes into running a farm. It is like a window into that world.
The experience is available to everyone who can't access this in real life and to young future farmers, who want to learn by playing. Everyone can try it, it's a great showcase and therefore I think that it's important to be present. We are a serious actor in the AG industry and it's great to be presented with such a huge expansion pack in the game. We hope our fans, customers and all others can enjoy our machines being a part of the game.
There's great variety in the Kverneland and Vicon Pack. What do you think about the selection of machinery?
Andreas Grepstad: This is a huge pack that covers most areas of farming, and the machines look great and authentic to real life. We are really proud of the result and the fact that you can run a farm almost entirely with Kverneland and Vicon implements on the back of your tractor.
Can you tell us more about the real-life machines we digitized for Farming Simulator? Such as the Kverneland iXtrack T4 or Vicon FastBale.
Andreas Grepstad: Yes, let's start with the iXtrack T4. Actual farmers were involved in development with the common goal of creating a machine that is precise, easy and cost effective. And that's exactly what we got. It is a fantastic sprayer!
The FastBale is a unique machine. It holds 2 "world's first" titles. It is currently the world's only non-stop fixed baler, and it is the world's only non-stop fixed chamber baler wrapper combination. We are very proud of that! So, both of those machines are great, but just the tip of the iceberg of this DLC pack. And they look great in-game, I must say.
How satisfied is Kverneland Group with the authentic digitalization of the tools and machines in the game?
Andreas Grepstad: Well, in my daily life in Kverneland Group I work with product pictures, and I must say from what I have seen in the game, I can certainly say that our machines look great in digital life. Very authentic and in beautiful landscapes that really make me feel proud of the brands I represent.
Thank you, Andreas! Any kind words to fans of Kverneland and Vicon who are excited to use the machines being added to the game?
Andreas Grepstad: Yes, we are looking forward to sharing this beautiful pack of Kverneland & Vicon machinery for all our friends and wish them great hours of digital fun running the fields and creating great crops. We're happy to share all that and we hope that we can bring some more joy into the game. I must say, what are you waiting for? Get the pack!
Want to see even more from Kverneland Group?
---
Maybe you missed our Pre-Release stream featuring the Kverneland & Vicon Equipment Pack where Andreas guest-starred to talk about various machines of the DLC and shared some more info from behind-the-scenes. You can see the whole stream in the recording below!
Want to operate the world's first non-stop baler and other machines from Kverneland Group yourself? The all-new Kverneland & Vicon Equipment Pack is now available for PC, Mac, PlayStation 4 and Xbox One. Don't miss out!
About Kverneland Group
---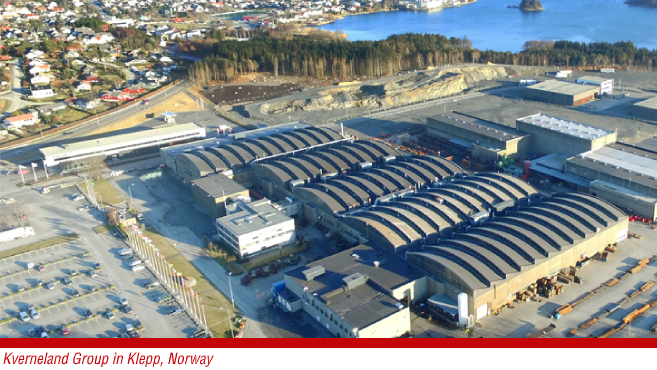 Founded in Norway in 1879 by Ole Gabriel Kverneland. Today, Kverneland Group employs more than 2,400 people around the world. With their headquarters in Klepp, Norway, the acclaimed manufacturer of agricultural machinery consists of factory sites in eight countries: Norway, Denmark, Germany, France, The Netherlands, Italy, Russia and China. On top of that, there are Sales Companies in 17 countries, and additional export of their products to 60 countries worldwide. Kverneland Group is providing a broad range of products for every-day farming needs: Soil, Seeding, Spreading and Spraying Equipment as well as Forage, Bale, Feeding and various innovative and cutting-edge Precision Farming Solutions. Their products are distributed under their brands Kverneland and Vicon.

What's your opinion on the Kverneland & Vicon Equipment Pack? Which machines included are your favorites? Share your opinion on our forums or shoot us an e-mail with your thoughts on our blog and this article at community@giants-software.com. We're looking forward to your feedback.