12. November 2020
Time to climb up the mountainous grasslands and complete your Farming Simulator 19 experience! The Alpine Farming Expansion as well as the Premium Edition including all expansions and DLCs are now available on PC & Mac, PlayStation 4, Xbox One and Google Stadia. By the way, with that we're starting an Alpine Farming Video Contest, too. Including the chance to win an Nvidia RTX 3080, PlayStation 5 or Xbox Series X. Just so you know!
Alpine Farming: New map and more than 30 new machines!
---
With the Alpine Farming Expansion, you immerse yourself into the serene scenery of Erlengrat, inspired by the German-speaking Alpine regions. It's the vast green fields of grass combined with curvy roads and the alpine mountains at the horizon under a clear-blue sky that make Erlengrat a painting-like playground. Especially for grass harvesting and livestock farming between Willows, Poplars and reworked Oaks. For that, more than 30 vehicles and tools from Aebi, Lindner, Pöttinger, Rigitrac, SIP and others are introduced to the series. See the full list of new additions:
Aebi CC 66 Mower
Aebi TT 281+ Utility Vehicle
Agrar Landtechnik ADF 3200 Slurry Tanker
Böckmann MH-AL 4320/35 Trailer
Bührer 6105 Tractor
Lindner Unitrac 122 LDrive
Lindner Lintrac 130
Lindner Utility Platform
Lüönd Swiss-Elite S 31 Trailer (Loader Wagon)
Pöttinger ALPINHIT 4.4 H Tedder
Pöttinger BOSS ALPIN 251 Loading Vehicle
Pöttinger EUROBOSS 330 TD Loading Vehicle
Pöttinger FARO 4010 D Loading Vehicle
Pöttinger HIT 8.9 T Tedder
Pöttinger IMPRESS 125FC Pro Baler
Pöttinger IMPRESS 125F Pro Baler
Pöttinger LION 303 + AEROSEM 3002 Power Harrow
Pöttinger NOVAALPIN 261 Mower
Pöttinger NOVACAT 301 ALPHA MOTION Mower
Pöttinger NOVADISC 812 Mower
Pöttinger SERVO 25 Plow
Pöttinger SYNKRO 3020 Cultivator
Pöttinger Terradisc 3001 Disc Harrow
Pöttinger TOP 342 Windrower
Pöttinger TOP 612C Windrower
Rigitrac SKE 50 ELECTRIC Tractor
Rigitrac SKH 75 Tractor
Rigitrac SKH 150 Tractor
Sepp Knüsel F 240 Mower
SIP Air 300 F Alp Belt Rake
SIP Favorit 254 Belt Rake
Stöckl Mistral 3400 SR Manure Spreader
Premium Edition: Perfect introduction to Farming Simulator
---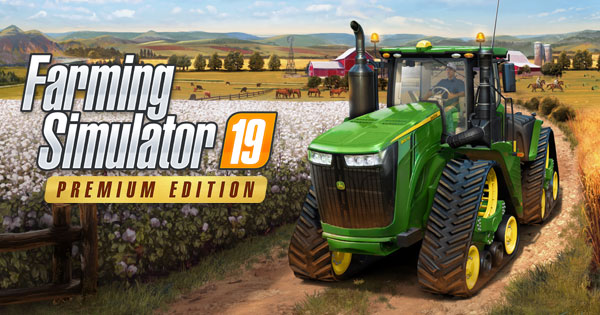 The Farming Simulator 19 Premium Edition contains all expansions and DLCs. Of course, that includes the multi-million seller Farming Simulator 19 itself, both the Platinum and the brand-new Alpine Farming expansions plus eight official DLCs.
In total, three official maps, more than 475 authentically digitized machines from Case IH, New Holland, CLAAS, Challenger, Fendt, Massey Ferguson, Valtra, Krone, Deutz-Fahr, John Deere and more are available with the Premium Edition.
Expansions and DLCs
Alpine Farming Expansion
Platinum Expansion
Anderson Group Equipment Pack
Bourgault DLC
John Deere Cotton DLC
Kverneland & Vicon Equipment Pack
John Deere XUV865M Gator DLC
HOLMER Terra Variant DLC
CLAAS DOMINATOR 108 SL MAXI DLC
CLAAS TORION 1914 Dev Mule DLC
Bonus items
72-page introductional Artbook (retail only)
Farming Simulator C64 Edition (digital, PC only)
Modding Tutorials 4.0 (digital, PC only)
The box version also contains a premium 72-page artbook welcoming new players to the game. With the PC version of Farming Simulator 19 Premium Edition, players also get the latest Modding Tutorials and the digital version of Farming Simulator C64 Edition.