Are you excited? You should be excited. Out of dozens of contributions to our Bourgault Video Contest, we identified three golden nuggets of creativity and video editing coming from our community. And they deserve it all. Missed the Honorable Mentions? Head over to our previous article to catch up! There are a lot more awesome contributions to watch. You can see our reactions to some of those videos in the video below. We had fun, big time!
How did we determine the winners?
---
Of course, all videos that were submitted via E-Mail had to be sorted, verified and watched. That's how it went down: We had an extensive list. We chose Excel. Our jury consisting of marketing, video and game specialists sat down, mainly because we forced them to. Then, they watched a total of seven finalist videos and then proceeded to vote. We didn't get a clear result. Instead of taking the easy way out and flipping a coin, we secretly consulted a selected few of close Community Moderators.
Watch our reactions!
---
Of course, there were some heated discussions, too - with jury members screaming at each other, crying a bit in the kitchen after, and then being friends again after calming down and enjoying our monthly Pizza Monday. Anyway! Hours later, we finally got a result. Now, we're proud to present the following three videos to get a well-deserved award! Let's start...
3rd Place: A French movie by BlakMik
---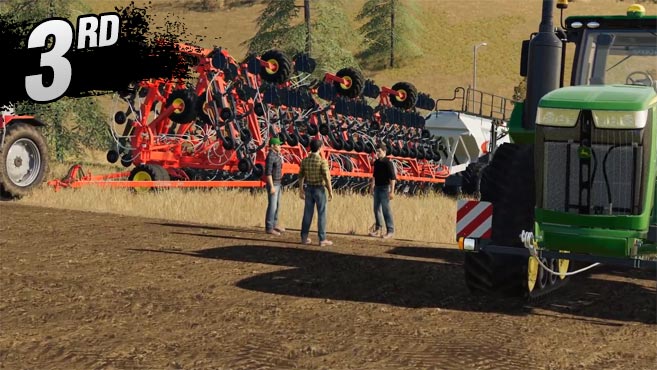 The reason: We're not surprised to get something with a quirky narrative from our French neighbors. It's story time, people! Although coming from the second most appreciated place in the world to export films (number one being North America), it doesn't go full "French Art house"-style as you'd maybe expect. But still, some scenes are borderline absurd. Mainly because of the fitting music responding to the slightly weird characters. That makes it fun. And it's nicely directed, too - with some supporting actors playing the "worst employees" of the poor guy.
As for the plot, our French speaking protagonist (thanks for the included subtitles!) learns an important lesson here: You shouldn't let anyone operate heavy machinery - especially the size of Bourgault machines. Taking the time to lay out a storyline and record it with this much effort and overall good quality needs to be rewarded. So, grab you microwaved popcorn and soft drinks! Or don't - in French cinemas it's not that common to eat and drink like it is elsewhere. Because it's more respectful to the movie makers as well as other guests in the room to avoid chewing and slurping. We'll leave you with this tiny fun fact and show you the film now...
Second Place: Stranger Farming by Drair
---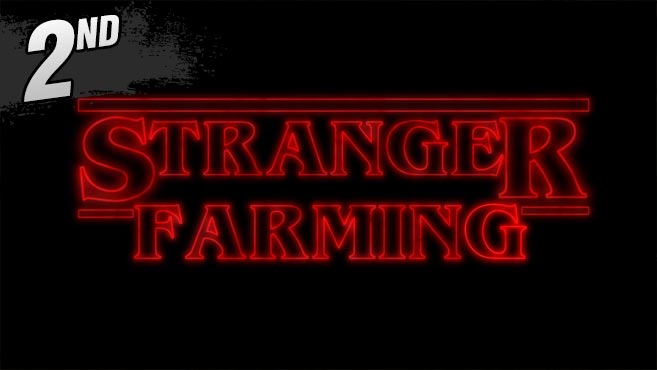 The reason: We're hyped. Big time. Even our jury members who didn't watch the show got pumped about the fast-paced and perfectly timed cuts responding to the beat of the music in harmony. It's sprinkled with effects and filters that mirror the style and atmosphere of the show that inspired this video. As awesome as the visuals may be, that's of course not the only thing to like about this one: It's the only one that was created with a "thinking outside the box" mindset going a completely different and experimental route (which was, to an extent, the goal).
The Bourgault machines are still on the frontline, but they're a mere tool to invoke some overall crazy chilly atmosphere. Sure, there is not a lot going on in terms of storytelling and the representation of the Bourgault Machines is very subtle. The title of "Stranger Farming" still fits perfectly - even more if you're not from North America and those machine dimensions seem strange and unfamiliar to you. Because of all this, we're more than visually pleased, we're emotionally invested. And most of us are even more hyped for the upcoming season of a particular Netflix show. But that was, of course, not the sole reason to award this video!
First Place: "One of these days, with a happy ending" by Nicko 87
---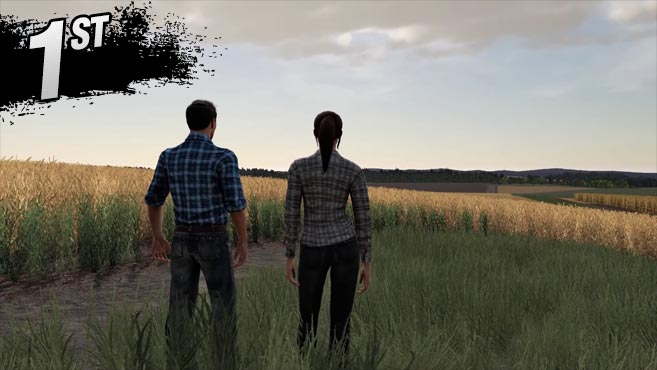 The reason: This one has a bit of everything and feels like the one where the most thoughts went into the script. We have a subtle but apparent narrative here, based on current events. There are beautiful shots of nature, landscape and characters. The music is fitting, too. The sum of it creates a melancholic but also hopeful atmosphere (and that's probably what some people could need right now). Also, the editing is nice and clean. There's a clever use of mods and multiplayer making it look very natural and authentically choreographed while still showing the Bourgault content in an evenly clever way and great detail.
It's also something to think about. There's even a tiny bit of legroom in terms of interpretation about what the message might be. Is it the optimistic outlook of everything working out and being fine in the end? About being together, getting through challenges? The description provides some hints: "A day on the farm, more days of work, blood, sweat and tears, in a current theme, but with a happy ending, as a wish for all of us!" If you want to look at it in a certain way, you're certainly allowed to. Because of all those reasons, it is our number one and deserves first place. Very well done!
Thanks to every participant!
---
Let's be honest for a second: We did a moderately spontaneous Video Contest that was exclusively based on one DLC. It was not an easy task to come up with something creative and individual. And still, the resonance was amazing. The actual videos even more.
Even if you didn't find your video included in the Honorable Mentions, we thank everyone for participating, investing time and energy. Hopefully, you had fun doing it. Maybe you got a first grip on video editing and want to do a lot more of it now. We sure enough had a lot of fun watching, rating, discussing and now rewarding the winners. Take a look at our Contest Playlist on YouTube for a few videos more than we already featured.
Will we do it again?
We'd like to think so. But what do you think? Tell us your opinion on our first Video Contest and if you'd like to see more in the future. Either do that on our forums or send us your feedback via E-Mail at community@giants-software.com.