Owners of the Alpine Farming Expansion and aspiring film makers should get their video editing software started - we're doing another Video Contest! With holiday season just around the corner, we'll give you more than enough time to produce a creative video with our latest expansion for Farming Simulator 19. It start's with the release of the Alpine Farming Expansion and ends on January 10th 2021. Read the rules below. Carefully!
Watch the Contest trailer!
---
Great prizes for great videos
---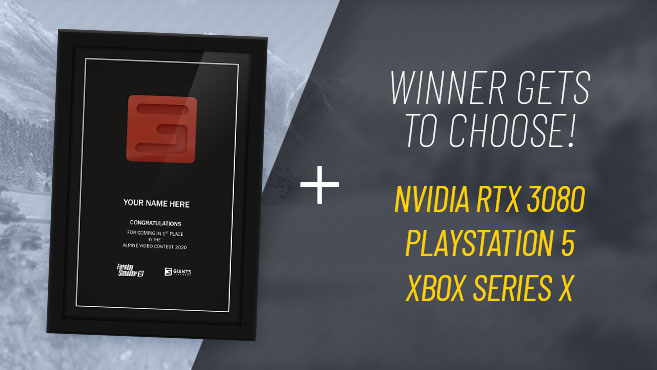 Here's the deal: Whoever submits the best video can choose how to enter the next generation of gaming. Meaning, if you're a PC player, you might want to get the Nvidia RTX 3080. Not a PC player or already got a potent video card? Choose either Sony's PlayStation 5 or Microsoft's Xbox Series X instead!
Of course, there are more prizes. Second place wins the Logitech G923 Trueforce Racing Wheel, featuring Logitech's latest Trueforce technology for a most immersive driving experience. And we have some other rather exclusive prizes up our sleeve. Check out all prizes below!
First place
Choose between: Nvidia RTX 3080, PlayStation 5 or Xbox Series X
Exclusive GIANTS award (made from metal) in a stylish frame
2nd place
Logitech G923 Trueforce Racing Wheel
Framed Alpine picture signed by GIANTS
3rd place
Premium Merchandise Box with Farming Simulator Goodies
Framed Alpine picture signed by GIANTS
Conditions of Participation - PLEASE READ!
---
General
Only one video per participant
Video length: Min. 90 seconds, Max. 4 minutes
Submission Deadline is January 10th 2021, 11:59 pm (CET)
You agree to your video being shared/used for promotional reasons by GIANTS
Content
Alpine Farming Expansion required
All recordings need to be on the Erlengrat map
When using machines and tools, focus on content of the Alpine Farming Expansion
Do not use material of third parties without consent/citation
No racist, sexist or otherwise hurtful content of any kind
Assets
Use of Brand Mods (machines, tools, etc.) is not allowed
Use of Modhub mods without brands (e.g. Seasons19, no-name-buildings etc.) is allowed
If you're using mods, please provide a list in the email!
Use of PlayerActionCamera-Mod is allowed, but optional
Use of music based on YouTube's content & copyright policies
Submission
Video title must contain "Alpine Farming Video Contest"
Send your YouTube link to community@giants-software.com
Make sure we can contact you under the email address used to submit the video
You assure that the submitted video is your own!
And that's how you win!
---
Of course, we'll enjoy every submission. Train your video editing skills and have fun! That's most important. But, if you want to win in the video contest, you'll have to go the extra mile. You probably won't make the victor's rostrum with a fan trailer featuring epic music. Also, try to avoid filming your screen with your smartphone - and if you do, please don't do it vertical, at least.
Come up with a story, think of some original jokes or play with emotions and atmosphere! The more creative, and out-of-the-box you go, the better your chances. Whether you direct a romantic love story on a mountain farm featuring cows as main protagonist or a supernatural short story about self-driving tractors. Use your imagination!
How are the winners determined?
---
All submissions will be examined by our jury and checked for rule violations. In the course of the following weeks, our jury will decide after discussing selected finalists. You can convince our jury (which is not taking any bribes) not only by high-quality presentation but with unconventional ideas, too. Our judges will then decide in a secret meeting. We'll reserve the right to consult third-parties, in case our jury is not able to come to a clear decision.
Missed the first contest?
---
In case you missed the Bourgault Video Contest, take a look at the winners from last time as well as the honorable mentions, if you can't get enough.

The contest ends on January 10th 2021 at 11:59 PM (CET). The Contest is open to legal residents of their respective countries where it is not prohibited by law and who are eighteen (18) years of age or older. If the respective law allows for participation of minors, please provide written consent by a legal guardian. Employees of GIANTS Software are not allowed to participate. Winners will be drawn by a jury within a four to six-week period after the submission period ends. Shipment can require multiple weeks in light of the current Covid-19-pandemic as well as delivery shortages of the aforementioned prizes.
Personalized data will be stored for the duration of the contest and is used for this purpose only. All data will be deleted after the contest ends and winners are drawn. Winners will be contacted by the contact info provided on submission. On submission all participants agree on their personal info being used for this purpose.