18. March 2020
We want to get to know our community. No matter if you produce YouTube videos, develop mods or just want to share your personal and unique Farming Simulator story. Today we're talking to H0mer, one of the German YouTubers and streamers. We're talking about what he learned from Farming Simulator, role-playing on the farm, our community and much more.
Who is this H0mer?
---
For two years now Stefan Wagnets, that's his real name, is playing all kinds of simulator games on his channel. In real-life Stefan (38) isn't a farmer, he's a training supervisor at a big media company in the German Ruhr area. There, he's working 40 hours and five days a week - just like most of us.
He's a big sports and soccer fan - but because of a knee injury he can't play himself anymore. So he spends his free time mostly on different kinds of simulator games on PC and console. Of course, Farming Simulator is one of his favourites.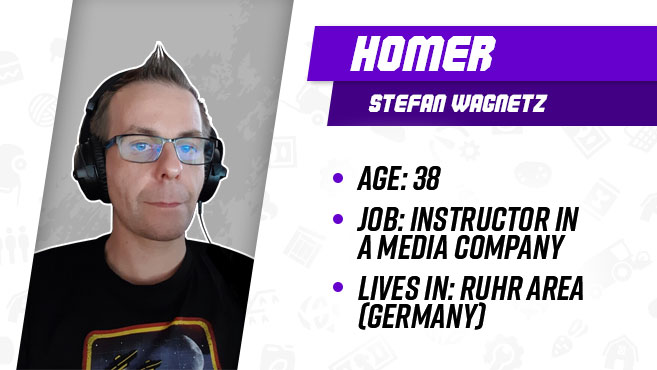 Hello Stefan! Do you have a real-life connection to agriculture?
No, I don't have a connection to real agriculture. Since I'm playing the Farming Simulator though - I started with Farming Simulator 13, i got many insights into the industry, even if only in a virtual setting.
But you could learn something by playing Farming Simulator, right?
Yes, the game taught me all kinds of machines and tool, what their respective functions and fields of application are. Also, the game taught me what's necessary to till a field, how to raise turnover and how to harvest. That's also true for making silage, animal food and many other things.
The game makes it comprehensible for me how much work is necessary in agriculture to keep everything running. Last year I visited Agritechnica for the first time. There were many brands I already knew from the game and they made it possible to take a look at the real machines and even take a seat on some of them. That showed me the real size and feeling of the machines.
Let's plays and role-playing with the community
---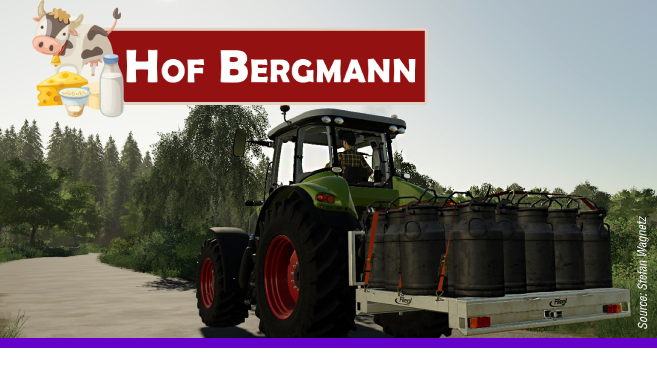 Let's get to your channel. Tell us what to expect!
My biggest project with over 150 episodes is "Hof Bergmann". The map by Farmer Andy impressed me. Lots of productions, love for details and the chance to process many resources further makes for variety. To sum it up, the project contains everything that's possible in agriculture and more.
My second project is "Wildbachtal" on the map of the same name by K&S Modding. Because of small fields and the narrow paths leading to your farm it's more suitable for small machines, old- and youngtimers. Also, I have the Seaons mod activated, making the experience a lot more challenging and interesting.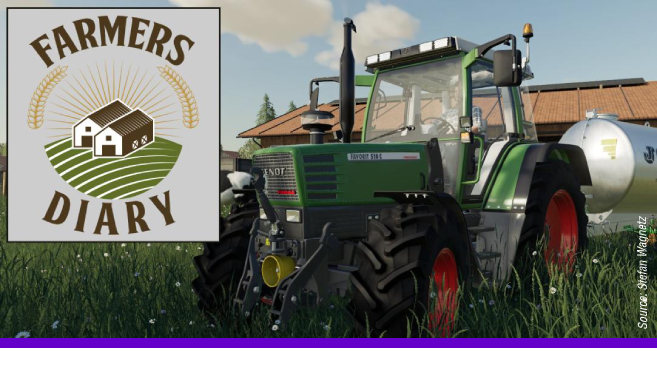 You have another project that's heavy on role-playing, correct?
Right, my third project is a role-playing project called "Farmer's Diary". We got a team together from the community with already 15 people as of now. With them and my fictional father figure in the game I run a farm together. That shows us which problems and challengs occur on the every day farm: Making choices, negotioating with others and of course handling the individuality of everyone involved. That makes it a multiplayer project with a lot of interesting characters. Alongside farmers there is also a mayor, a car salesman, a haulage and more. There's a lot of effort in it, but a lot of fun too. We' excited for every new role in the future.
Role-playing gets more and more popular in the community. What does it contribute to the experience?
There are more and more role-playing projects in the community of Farming Simulator and that excites me. Because the interaction between each other is of course what the multiplayer aspect of Farming Simulator is all about. The viewers get entertained and are thrilled to see what happens next. Everyone takes on a different role and contributes his ideas, personality and know-how - either playing car salesmen, contractors, farmers or completely different things like bankers, emergency personnel or the mayor. Thanks to mods, that's possible. It makes for a nice variety and allows all players to have a lot of fun together.
How much time do you spend on your channel and your videos?
Well, as you say, time is relative (laughing). Since I'm working full time, i got time only in the evening to record Let's Plays, test mods or prepare different things and talk to the community. On Twitch I'm doing live streams regularly. These days I'm streaming the mod-maps "Hinterkaifeck V3" as well as "La Coronella". Every day I invest about three to five hours, even more on the weekends. On Sundays I usually enjoy some personal time and spend time with friends and family. It's fun to spend so much time on something, if you see that it makes someone happy.
What's the feedback from the community on your videos?
The feedback is really good. With new games, addons or mods people get a first glimpse at the new content. The people in the community are very helpful with one another and you get a lot of feedback on things you probably wouldn't have noticed yourself. Of course, there's criticism too, but it's always constructive. And of course you can't please everyone. But I try to compromise or involve the community by letting them vote in polls.
About the fascination with Farming Simulator
---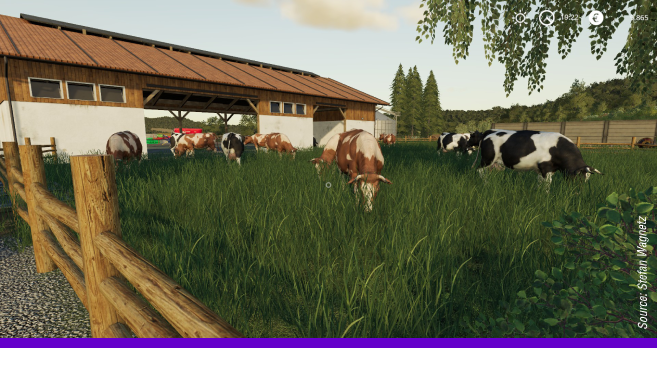 What about Farming Simulator and the genre fascinates you so much?
It's the relaxing and decelerating way of playing that's not hectic at all. Doing your assignments, sitting in machines you can't operate in real-life and doing this whenever you want. Another big thing in simulation games is getting to know all the machines, tractors, busses or trucks with their interactive possibilities you need to master to operate them correctly. The learning effect and the new experiences are also a big part of it. You can play the Farming Simulator any way you want. Single- or multiplayer, with or without mods, Seasons or other mods that rely on realism. There's something for everyone - whether it be for beginners or experts. I'm enjoying that for years now.
What can you say about the new Bourgault DLC?
I like the Bourgault DLC very much. Especially the introduction of a new brand. Of course opinions differ. The DLC features big machines, made for big fields - Hohen Luckow, Kandelin, NF Marsch and many others for example. Since it's a Canadian company you can't just look at the european market. In North America and Australia there are massive fields, too and you have to take that into account with the DLC. Farming Simulator isn't played in Europe only, it's played world wide.
This year there's no new Farming Simulator - the feedback is mostly very positive. What are your thoughts?
I think it's okay to not have a new Farming Simulator this year. That means there's more time for you to include new ideas and content. There doesn't have to be a new game every two years. That's what most of the feedback is saying. Now, modders have also more time to develop new mods, features, productions and maps that will bring even more fun to the game. Also, you will release another two DLCs and Creative Mesh will bring the Straw Harvest addon soon. I'm excited for what's coming to the new Farming Simulator. It was the right decision.
Do you follow the Farming Simulator League (FSL) too?
I'm following the Farming Simulator League since last FarmCon at CLAAS and I have to say, it's very exciting. The power density of each team is growing from tournament to tournament and that's making it thrilling. At GamesCom, Agritechnica, Dreamhack and the IEM in Katowice (even without audience because of Corona-related safety measures) I was there live. Every other game I watched on live-streams. I like the presentation very much. The choice of casters, too. So, I thinks you're on the right path and I'm already excited for the upcoming online tournaments as well as the championship at this years Farmcon at DEUTZ-FAHR.
Just a quick list - what are your favourite mods for Farming Simulator 19?
Seasons Mod, Simple IC, Global Company, Hof Bergmann mod map
Thank you very much! Any words to your fans the rest of the community?
What can I say - I love to be a part of this wonderful community and will continue to make videos and do live streams for you to enjoy. Much thanks to all of you!
Discover H0mer's channels!
---

You have a cool YouTube channel, too?
---
Then get in touch! Now and then we'll focus on newcomers as well as veterans in the virtual farming community. If you're interested, shoot us an e-mail at community@giants-software.com. Also, feel free to send us feedback on our blog!