3. April 2020
Okay, friends of professional palletizing. Only a few days until Straw Harvest releases for Farming Simulator 19 on PC on April 7th. While the addon was released as a paid version for the predecessor, it will be free on the Modhub this time around. Correct, the addon by Creative Mesh, the talented developers of Straw Harvest, will be free on PC, Mac and very soon on consoles.
Since the release is not far away, Creative Mesh agreed to an interview to share some insights on the development. Did you miss the announcement of Straw Harvest for Farming Simulator 19? Get more information about the addon and the content in the linked news article.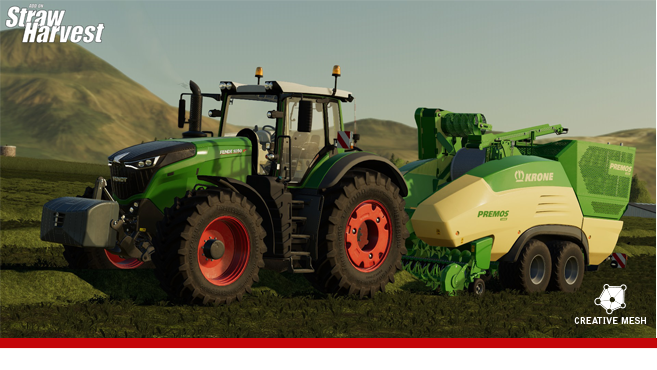 Interview with Creative Mesh
---
Why did you decide to convert and release Straw Harvest for Farming Simulator 19? For free even...
After the big success with Farming Simulator 17 we wanted to thank the community and were looking for an uncomplicated way to make it available for Farming Simulator 19. Luckily we found a way to release the converted addon and release it on all platforms, except for Google Stadia. [Editor's note: Currently mods are not supported on Google Stadia]
For everyone not knowing about Straw Harvest: What is the addon all about? How does it expand the game?
The Straw Harvest addon expands Farming Simulator to feature a completely new economic sector, the pellet industry. Also, it extends on the squarer as well as round bale system. With the Krone Premos 5000 you can press swaths and bales into pellets to process them further in various ways.
The addon features round and square balers with new features like various bale sizes with the Krone Comprima or the combination of the Krone HDP II including inline bale accumulator BaleCollect. The bale grabs by Bressel und Lade make the handling of bales much more easier. Another new feature is the possibility to choose between refillable consumables automatically or manually. The latter forces you to buy and refill bale yarn, netting and molasses.
Why the pellet industry though? Why did you decide to develop this economic sector? Were there alternatives you discussed?
It was important to us to include a new economic. The round and square baling in Farming Simulator provided the potential to build on to it and Krone just announced the Premos 5000. So we found a suitable niche here. Also, we wanted to bring new interesting gameplay elements to it - with the industry hall and the bagging machine to complete this branch of the economy.
There were more ideas on the table, but not all of them were suitable for an expansion. We won't give away which ideas those were. Maybe we will still realize them, so of course we don't want to spoil it now.
How did the cooperation with KRONE and Bressel und Lade come to be? How are your relations?
It's already been ten years we had good contact to Krone. It began with the development of the tedder KWT 11.22 and the famous Ultima. This cooperation developed further over the years and for us it was obvious: We had a good partner in Krone to make an expansion with. At this point we hadn't worked much with attachements. So, we did our research at trade fairs and looked for a potential partner to implement bale equipment. After a quick research we found Bressel und Lade who offered exactly what we were looking for. Bale grabs in various implementations. After making contact it was almost instantly clear that Bressel and Lade would be on board.
With Krone and Bressel und Lade we have two partners which offer great cooperation. It's very likely to do more Farming Simulator content with them in the future. Also, together with Krone we sponsor the Krone eSports team in the Farming Simulator League.
Let's talk about your motivation. Why did you choose to develop such complex addons? Do you have an ultimate goals as a development team?
"The best is just enough". This saying motivates us for years. That was true for the mod team and it's still true today for our company. If we're honest, it's especially fun if you extend the boundaries of the possible or even further. This way, we could make a name for ourselves in the community, thanks to our extensive projects and their quality. Eventually we got the chance to even start our own business.
Everyone not programming him/herself can't possibly imagine - but how much time goes into a project like this? From the concept up to the release...
For the Farming Simulator 17 version of Straw Harvest we invested about 4200 working hours. More hours on top for the concept, partnern meetings, trade fair visits like Gamescom and many other things. The conversion for Farming Simulator 19 took another 500 hours.
This is a lot of time. Which challenges did you have to overcome?
The biggest challenge was to finalize the project within the planned timeframe. Especially for a new company there's a lack of experience on how long it can take to develop something like this. It can get very tight in terms of scheduling. Another thing you shouldn't underestimate are all the things besides the actual project. Starting with the formation of the company and contract negotioations up to trade shows and marketing. For Farming Simulator 17 our distributor Aeorsoft helped us with that.
Modders have it a little bit easier. Then again, most times they're missing the models (CAD) or tools which only companies can finance. So, they have to recreate the models based on images. That's very difficult to accomplish when you're looking at details and proportions.
How's the feedback from the community, including other modders and real farmers?
Feedback from the community was already very positive with Farming Simulator 17. In the end the positive feedback induced us to convert the addon to Farming Simulator 19. All the small features that define the addon seem to resonate well with the community. Our partners were totally convinced - so much that the addon was playable at Agritechnika 2017 at the booths of Krone and Bressel und Lade as well. That was way before the actual release and the game stations were real visitor magnets. And we could convince other agricultural companies to cooperate for joint projects.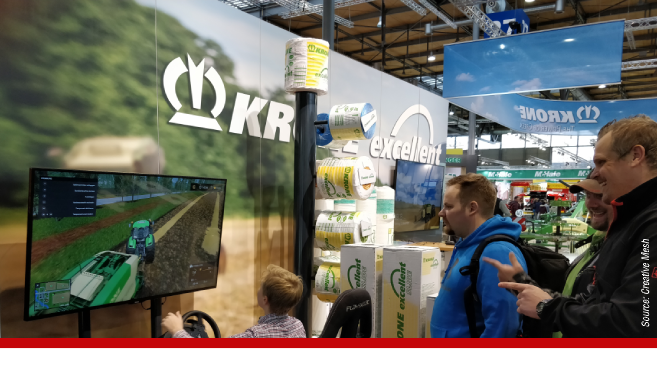 This year there's now new Farming Simulator but two more official DLCs as well as Straw Harvest and many mods coming up. What's your stance on this?
We're still trying to get over it (laughing). It's a strange feeling not to have a new Farming Simulator over a two-year period. But we're excited all the more about the additional time to include new features that make the game even better. Of course, we're very curious for the next version!
Thank you for the interview! Anything else you want to add and tell to your fans?
We hope you have lots of fun with the addon for Farming Simulator 19. In current times we also hope to make your stay at home a little bit more enjoyable! #StayAtHome :)
About Creative Mesh
---
Creative Mesh was founded in 2016 by a small team that originated from bm-modding. The latter is well known since 2011 for their high-quality modifications for the Farming Simulator series. The breakthrough came, among other things, through their 1st place victory at the official mod contest 2015 thanks to the submission of the Krone Ultima. Shortly after that, Frederic, Sascha and Raphael, the three founders of Creative Mesh, turned their hobby into a profession and their passion into the newly founded company. Raphael went on to engage new challenges and the team was then reinforced by Stijn. While 3D Artist Frederic is responsible for various ingame assets and models ans Sascha also creates 2D and 3D models and textures, Stijn is in charge of scripting. Straw Harvest shows their serious and diligent dedication for creating professional content. Fans can be excited for everything that's yet to come by Creative Mesh.

What's your opinion on the Straw Harvest DLC? Share your opinion on our forums, Discord and other channels (check out, where our community is to be found). Feedback on the blog? Shoot us an e-mail with your thoughts on our blog and the article at community@giants-software.com!