It's time to get our creative minds going! While most of us for the common good are still working from home and avoid physical contact until further notice, it's even more important to stay active in some way. Before you put down roots on your couch and just get up for a walk to the fridge, only pausing to apathetically look through the window to observe the arrival of spring, participate in our contest instead! Yes, of course there's something for you to win, too!
Take a look at the prizes!
---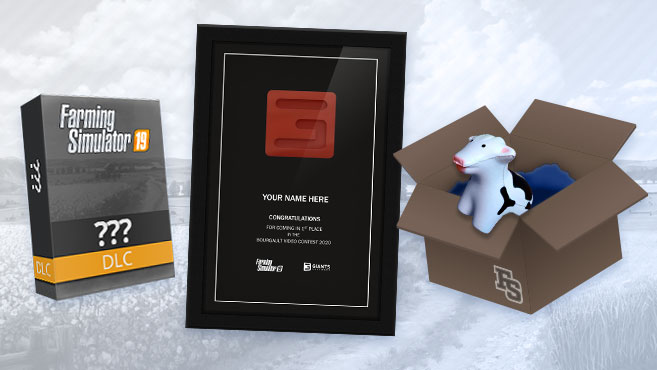 No contest without prizes, that's for sure! First place will get a framed plaque to hang up on your wall. First place as well as second and third will get a merchandise box with Farming Simulator goodies as well as a download code for the next (still unannounced) DLC as soon as it's released. Don't worry it's not THAT far away, but we won't tell you what it is right now. That's mean, we know.
First place
Exclusive GIANTS award (made from metal) in a stylish frame
Farming Simulator merchandise box
Code for the next DLC as soon as it's released
We may feature the video on our YouTube channel
2nd & 3rd Place
Farming Simulator merchandise box
Code for the next DLC as soon as it's released
Conditions of Participation - please read!
---
General
Only one video per participant
Video length: Minimum 60 seconds, maximum 8 minutes
Upload via YouTube
Deadline is May 10th 2020, 11:59 pm
You agree to your videos being shared or used in part for promotional reasons by GIANTS Software
Content
Bourgault DLC has to be used primarily (other content is still allowed)
It can but doesn't have to be a trailer or promo style video - go nuts, guys and gals!
Only officially in FS19 (and all official DLCs) featured brands are allowed
Modhub mods (e.g. Maps, Seasons etc.) aside from brand content are allowed
Use of PlayerActionCamera-Mod is allowed, but optional
Use of music is based on YouTubes content & copyright policies
No racist, sexist or otherwise hurtful content
Submission
Video title must contain "Bourgault Contest"
Send your YouTube link to community@giants-software.com
Please provide your full name and contact information
You assure that the submitted video is your own!
What kind of videos are you thinking of?
---
Whatever: It doesn't have to be a professional style trailer. Go wild! Do anything! A parody, a short story, or something focused on atmosphere. You have complete creative freedom in making your video. Only important things are the use of Bourgault machines (do you need map suggestions?) and minding the terms of participation above (meaning no mods featuring brands and machines not officially featured in the base game, etc.). Everything else? Up to you!
Whether you produce an epic trailer with lots of action, effects and a moderate amount of story just like a Michael Bay movie or you direct a romantic short movie depicting the idyllic farm life between large-scale machinery which will cause viewers to shed some tears in light of the exuberant degree of romanticism... it's really up to you.
How are the winners determined?
---
All submissions will be examined by our jury. Some of them will be shared on our blog and social media channels in the course of the following weeks. Our jury will decide which videos are the best, also taking in account your feedback on the submissions when we show them on social media, our forums, etc.
How we judge the videos? Well, let's say the more creative the videos are the better are your chances to win. Use the PlayerActionCamera mod available on our Modhub to make it easier capturing cool scenes from the game. But you don't have to use it, if you're wondering.
You can convince our jury (which is not taking any bribes) not only by high-quality presentation but with unconventional ideas, too. Our judges will then decide in a secret video meeting maintaining the recommended social distance.

The contest ends on May 10th at 11:59 PM. The Contest is open to legal residents of their respective countries where not prohibited by law, who are eighteen (18) years of age or older. If the respective law allows for participation of minors, please check if written consent by a legal guardian is required. Employees of GIANTS Software are not allowed to participate. Winners will be drawn by a jury within a four week period after the submission period ends. Shipment can require a period of multiple weeks in light of the current Covid-19-pandemic. Shipment of digital content will follow as soon as the digital content is released.
Personalized date will be stored for the duration of the contest and is used for this purpose only. All data will be deleted after the contest ends and winners are drawn. Winners will be contacted by the contact info provided on submission. On submission all participants agree on their personal info being used for this purpose.