Did you know that Kverneland Group has been around for way more than a century? Or the fact, that the international company also manufactures implements for the Kubota Group? In todays interview with Cecilie Våge from Kverneland Group, you'll learn some more about the business group behind all the innovative farming technology and, of course, the acclaimed brands of Kverneland and Vicon. Both have been added to Farming Simulator 19 with the newly released Kverneland & Vicon Equipment Pack.
Part One of our interview with Kverneland Group
---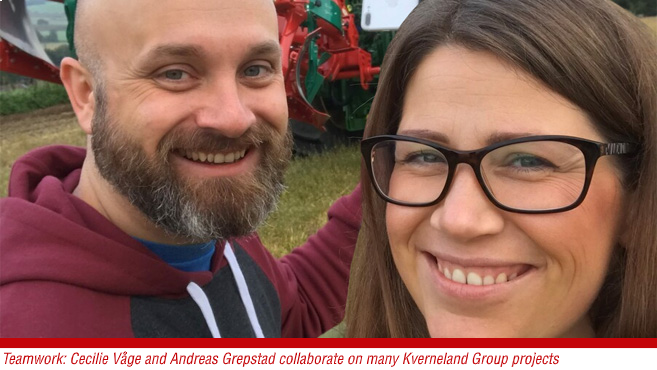 Cecilie is the Group Communication Manager in the Marketing & Communications Department of Kverneland Group, and therefore the perfect person to teach us about the company's values amidst the current state of the industry. After talking to Cecilie, we'll follow this up tomorrow with Andreas Grepstad, one of their talented Graphic Designers, working for After Sales as well as one of the biggest Farming Simulator fans within the company. Cecilie and Andreas worked together in the Marketing department of Kverneland Group After Sales in 2019 and still collaborate today on various projects within the company. For this special occasion, both of them were happy to be the representatives of Kverneland Group to accompany the new DLC.
Since we couldn't talk in person and our trip to Norway wasn't possible as initially intended, we decided to do it like everyone else in these times - via FaceTime! We'll show you the highlights of our interview in a short video, recorded just a few days ago. If you want to know more, just keep reading! Below, you'll find the whole interview with Cecilie.
Talking to Cecilie Våge, Kverneland Group Communication Manager
---
Please tell our readers, who are maybe not that familiar with the brand, what Kverneland Group is all about. What is the company philosophy, for example?
Cecilie Våge: Kverneland Group is all about the Future of Farming. We are a leading international company developing, producing and distributing agricultural machinery and services – with over 2,400 employees worldwide. With a strong focus on innovation we aim to provide a unique and broad product range with high focus on quality. Kverneland Group manufactures implements for our own brands Kverneland and Vicon, and supply Kubota branded implements for the Kubota Group.
Kverneland Group and the machine brand Kverneland celebrated their 140th anniversary last year. What has changed the most in this impressive time-span?
Cecilie Våge: Last year we were so lucky to be able to celebrate 140 years of existence. 2019 definitely marked the year of our past and our future. We used the opportunity to thank our farmers for being a part of Kverneland, and for their loyalty to the brand through so many generations. So it was as much the farmers celebration as ours.
In terms of what has changed the most during these 140 year time-span. For Kverneland Group and for the AG industry in general - I would have to point out the historic milestone of Mechanisation. In the late 1920's Kverneland was a pioneer specialising in the mechanisation development with the first tractor implements. Moving from the horse-drawn to tractor-drawn plough.
Today we have the i-Plough, which is – as many of our implements - equipped with intelligent software, designed to make the practice of farming more easy, accurate and controlled when it comes to growing crops and raising livestock. So yes, a lot has changed indeed throughout time!
What do you see as the next big step in advancing on agricultural technology?
Cecilie Våge: Similar to other businesses, digitalisation is becoming more and more important in the farmer's day-to-day practice. We continue to focus on providing intelligent and efficient farming systems contributing to sustainable agriculture, serving the world's growing population. In addition, we also work on new business applications and online service tools to support the farmer in their daily farm operation.
What challenges come with it and how does Kverneland Group approach them?
For farmers, compatibility between tractors, implements and electronics of different manufacturers sometimes can give challenges. We closely follow up on the international electronic standards provided by the AEF, to ensure we offer AEF tested and approved solutions for our customers. Every farmer can use the AEF database to find out which tractors and implements are certified and approved. With that you are sure that functionality and data exchange between tractors and implement works well.
A big challenge right now is, of course, the ongoing COVID-19 crisis. What are the effects on the agricultural industry?
Cecilie Våge: All of the AG industry is of course affected, as well as any other industry. Farmers have an important role to play in all of this to make sure that we are all fed. We as manufacturer of implements, parts and services are supporting the farmers in the best way possible, to make sure they have the equipment needed to do their job.
Agricultural awareness is obviously a side effect of the corona crisis. What else can help to raise awareness for the industry, and do you think games like Farming Simulator can generally contribute?
Cecilie Våge: If there is anything good that comes from this year it is that the awareness of the agriculture industry and farming as a profession has been elevated through general- and social media. With social distancing, we have moved into a more digital world, with more digital tools – and this also applies to the entertainment industry. Farming Simulator contributes to focus on the farming life and what it takes to run a successful farm – small, medium or large-scale.
Thank you for the interview, Cecilie! Do you have some kind words to all the fans of Kverneland, Vicon and Farming Simulator out there?
We are so excited and proud to finally be a part of Farming Simulator with the Kverneland & Vicon Equipment Pack – and to be a part of this great online community!
Stay tuned for more!
---
Don't miss out on what Andreas has to say about the Kverneland & Vicon Equipment Pack, what the representation of the company within the game means to them and more!
Go to Part Two of our Interview!
Already wanting to drive those Kverneland and Vicon machines yourself? The Pack features some of Kverneland Groups most innovative machinery - like the FastBale, a revolutionary non-stop round baler wrapper combination, emphasising on "non-stop" baling. Awesome, right? The Kverneland & Vicon Equipment Pack is available for PC, Mac, PlayStation 4 and Xbox One.
About Kverneland Group
---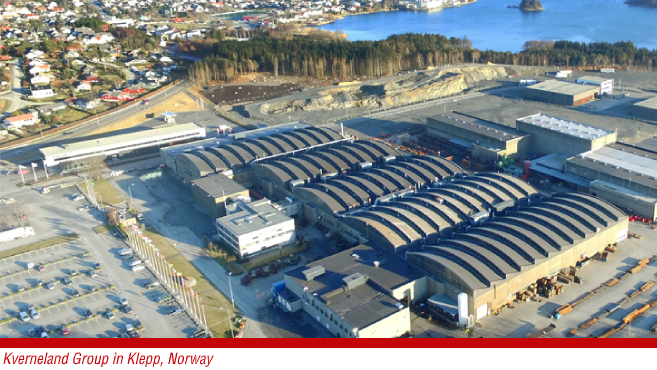 Founded in Norway in 1879 by Ole Gabriel Kverneland. Today, Kverneland Group employs more than 2,400 people around the world. With their headquarters in Klepp, Norway, the acclaimed manufacturer of agricultural machinery consists of factory sites in eight countries: Norway, Denmark, Germany, France, The Netherlands, Italy, Russia and China. On top of that, there are Sales Companies in 17 countries, and additional export of their products to 60 countries worldwide. Kverneland Group is providing a broad range of products for every-day farming needs: Soil, Seeding, Spreading and Spraying Equipment as well as Forage, Bale, Feeding and various innovative and cutting-edge Precision Farming Solutions. Their products are distributed under their brands Kverneland and Vicon.

What's your opinion on the Kverneland & Vicon Equipment Pack? Which machines included are our favorites? Share your opinion on our forums or shoot us an e-mail with your thoughts on our blog and this article at community@giants-software.com. We're looking forward to your feedback.